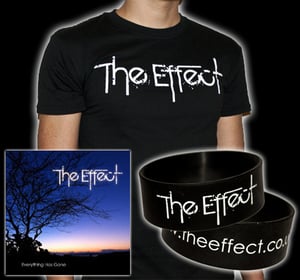 £

2.00
The Effect Debut EP 'Everything Has Gone' and 'The Effect' T-shirt.
Features the debut single 'Plastic Hearts'.
Debut EP Release 11/03/11 *SOLD OUT*
1. Plastic Hearts
2. Down The River
3. Everything Has Gone
4. Can't Forget Your Love
5. Tremble
6. Left Wing (And Right Wing Are Both Parts Of The Same Bird)
Black 'The Effect' T-shirt
Small
Medium *SOLD OUT*
Large *SOLD OUT*
Limited stock
Sizes (fit to chest)
- Small: 34-36"
- Medium: 38-40"
- Large: 42"
The Effect Wristband
Thick Style
One size fits all